Users grid
The Users section is where you can view all your users across all different user types, bulk import lists of users and edit individual users. You can find the Users option on the left navigation.
Once within the Users section you will find the Users grid which lists all your users. The Users grid has the same logic as all other grids, such as your dashboard grid.
Available actions for each user
An important part of the grid on the far right here is the available actions button, which you can click to see the actions available for each individual user.

The drop-down box will include the following five options:
Change user type: This will allow you to change this user to a different user type, for example from a visitor to a staff member. The user type is main determinant which groups users and tells the system which actions the user should take in the entry process on your kiosks.
Deactivate User: You can deactivate a user account and leave it on the system so that they don't have access to the dashboard and won't be able to use the kiosk as a registered user. This means when they check-in using the kiosk they will be checked in as walk-ins rather than staff or visitors (registered users).
Check-In User: This is for a manual check-in of the user who didn't use the kiosk to sign in. Once you click on it you will be presented with this pop up that will allow you to choose the site and area the user was at, to add user temperature and if they had a mask or not.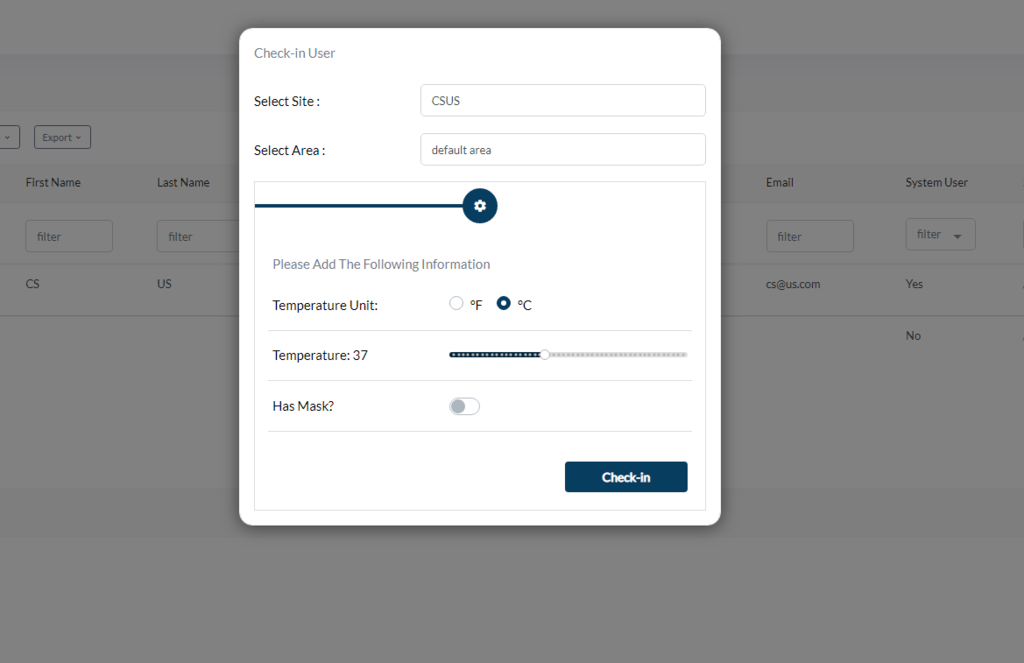 Edit: The edit option will allow you to edit any of the saved information on the user profile and will also allow you to make a user into a system user from the toggle presented below. Once you turn on this toggle you will be asked to enter user password that they can change later on after they sign in to the dashboard.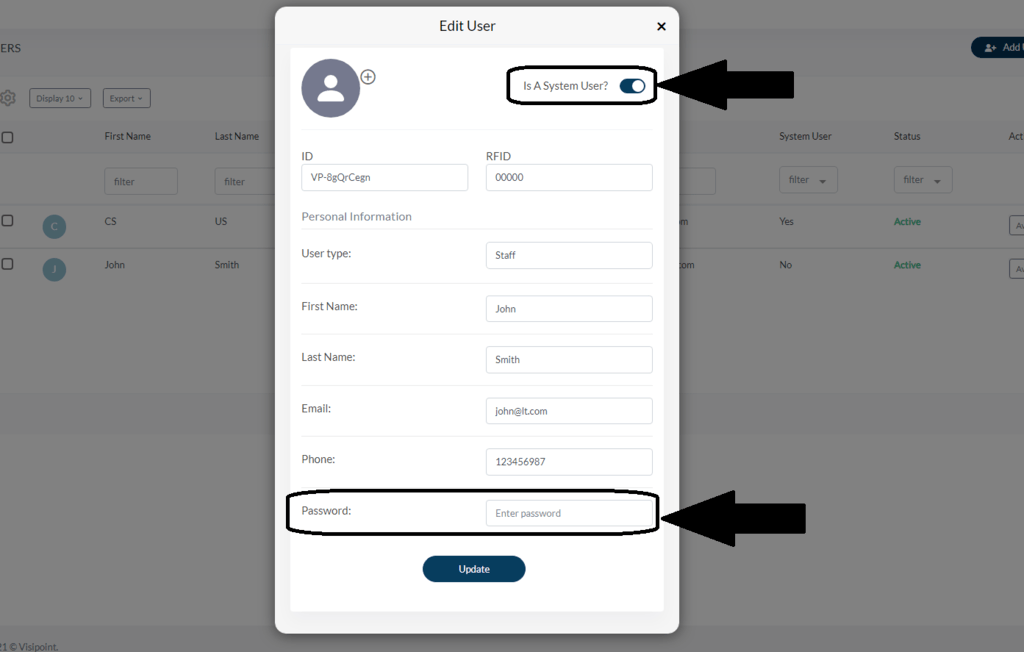 Delete: If you click the delete option, you will be presented with a confirmation message that you will delete a user from the system.
Please note that the default system user account used on the initial registration process cannot be deactivated or deleted.
Available actions for multiple user selection
If you select more than one row, there will be a multi-action button on the top right called Actions for selections. For multiple users, we can change the user type, activate users or de-activate users all at once.

Export users
You can export users by clicking the export button on the top left of the grid. You can export a selection of users or your full list in Excel, CSV or PDF format.