At any time you can view and manage your billing information. This includes your account details, billing and shipping addresses, payment methods and billing history.
Accessing your billing details
You can access these details from your dashboard by clicking on your profile name at the top right of the screen.
A drop-down menu will appear with two options; Manage Billing and Logout.
When you click Manage Billing a popup screen will appear.
You will need to fill in your email address to receive a one-time password that will allow you to access your billing information.
Please note: Only the contact who signed up for the subscription can access the customer portal. If you are not the acocunt holder and enter your email address you will see the below error message which confirms that you do not have an account.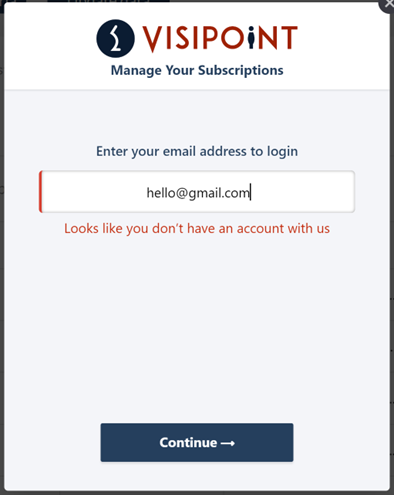 If you want to change the account holder you can do so by editing your Account Information in the pop-up window once signed in, or please contact our support team and we will change this for you.
Once you have received the one-time password, you'll have 5 minutes to use it before it becomes invalid and you'll have to request another.
After you have typed in your one-time password the popup screen will change.
Managing your billing details
Here you'll see all the options to help manage your billing.
Account Information – Where you can update your own details and the company's details
Billing & Shipping Addresses – Allows you to update the address of the company
Payment Methods – Where you can update the card details for your account
Billing History – Here you can see past payments and download them
Please note: You can add additional contacts to your account to receive account notifications and invoices. Please contact our team via the live chat bubble in your dashboard and we can add additional contacts for you.