Pre-registration in VisiPoint allows visits to be booked in advance. If you are expecting a visitor or other user type to come to your facilities, you can book the visit as an admin or you can provide users with a URL to book their own visit. This speeds up the entry process when they arrive.
Registration methods
Depending on which registration method you select for your user types, different rules around their sign-in process will be set.
Default user types will have the method "Registration allowed" as default.
There are five options to choose from when setting the registration method for your user types. These will be shown in a dropdown list when you click the "Registration Method" box while editing or creating a user type.
The available registration methods are:
Pre-registered only:
User types with this registration method must have an expected visit and cannot sign in without one. They must also complete their registration before attempting to sign in.

A new field called Visit Grace Period will also appear. Here you can enter the amount of time, in minutes, that this user type can sign in before or after their expected visit time. For example, if their visit is booked for 10 am and the grace period is 30 mins, they can sign in from 9.30 am to 10.30 am but will be refused to enter if they attempt to sign in at 11 am.

The user's status will be shown as Expected until the grace period has ended, if they have still not signed in their status will be changed to No show.
Pre-registration with approval required:
User types with this registration method will have to complete their registration before their visit and the admin must accept it before the user can sign in.
Registration allowed:
Users types with this registration method can register on your kiosk when they arrive as they complete the sign-in process. However, they are also able to pre-register before their arrival if they would prefer.
Pre-registered by admin:
Users can only sign in if an admin has added them to the dashboard. When choosing this registration method you will see a checkbox called "Give the user the ability to switch their user type". Ticking this gives users the option to change their user type. For example, if a user had signed in to your site as a visitor previously but they are now a contractor, they can switch their user type while completing the registration.
Registration not required:
This registration method is designed for walk-in users only. These users do not need to provide any registration information upon signing in.
How to change the registration method for a user type
To change the registration method for your existing user types, select the "User Settings" option from the side menu. This will open a dropdown, from which you will click the "User Types" option. Learn more about user types in this help article.
You will then see a grid which lists the user types you have set up.
Here, you can choose to edit an existing user type by clicking the "Available Actions" button and selecting "Edit" from the dropdown. You can also create a new user type on this page by clicking "Add" at the top of the page.
Editing an existing user type
When editing an existing user type, after you have clicked "Edit" the menu below will open. You can then click in the "Registration method" box to open a dropdown menu.
Once you have selected your registration method for this user type, click "Update" and your change will be saved.
Creating a new user type
To create a custom user type you will need a Professional or Enterprise level cloud license.
When creating a new user type, after you have clicked "Add" you will be taken to the page below.
You will then need to click "New User Type" to bring up a form to fill in the details for your new user type.
Enter a name, then select the registration method by clicking into the box to open a dropdown menu.
Once you have selected your registration method, click "Submit" and your new user type will be added to your list of current user types.
You can then add your new user type to your entry process by adding it to your journey flow in the "Journey Builder".
Learn more about the online "Journey Builder" here.
How to book a visit in advance
There are two ways for you to provide your users with the ability to complete their registration before arriving at your site. You can book a visit from your dashboard as an admin, or send the visitor a pre-registration URL for the site they will be attending.
Adding a visit as an admin
Click the "Add Visits" button at the top right. You will then see a form to complete.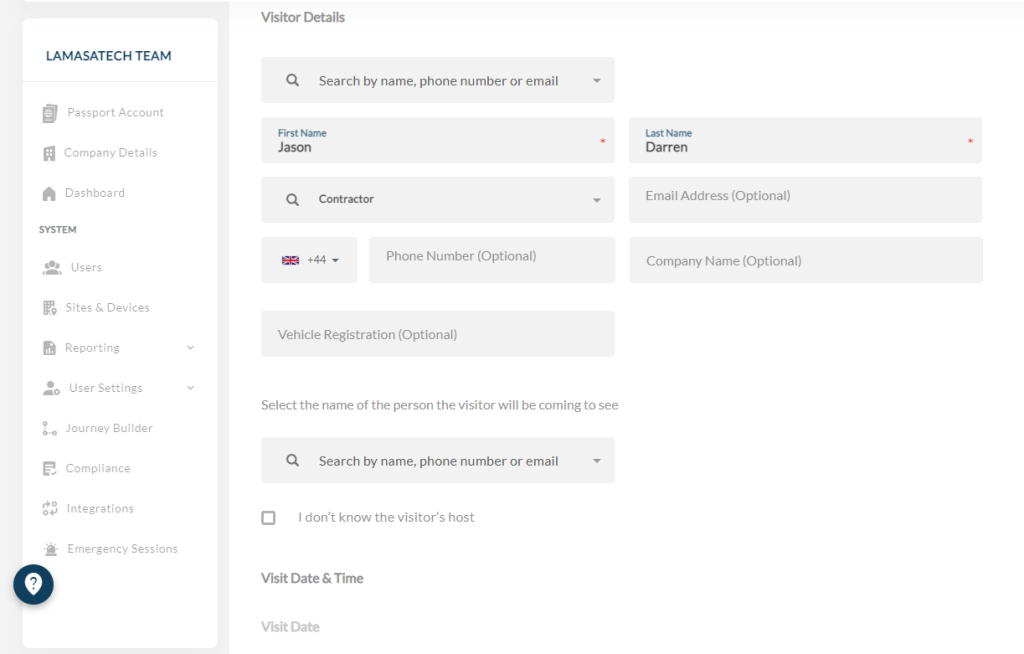 Select the site and area the visitor will be arriving.
Fill in the visitor's details. If they have visited before and their details are on the system their profile will pop up as you begin to enter their name. For new visitors, you will need to add their information.

If you would like the visitor to receive a confirmation of their visit or be invited to complete the remaining registration steps (such as compliance forms) before they arrive, you should enter an email address or phone number for the visitor. More detail on this email is below.
Select the user type of the visitor (for example, visitor or contractor).
Select the host – the person who the visitor is coming to see. If you have host notifications activated, the host will receive an email when the visitor signs in. For the host field to appear, a host user type must be set in the entry flow for the area where the visitor will be arriving. To learn more about how the host feature works visit this help article.
Once you have completed these details, you need to select the time and date of the visit and then click "Add Visit".
You will now be able to see any booked visits with the status of 'Expected' from your dashboard grid.
Visitor invitation email
For the visitor to receive a confirmation message and a link to complete any remaining steps in the registration process before their visit, you must include their email address or phone number in their details while creating the visit.
If you have remaining steps such as compliance checks to complete, the visitor will receive a message which looks like the below email:
The user will be able to click the link which will take them through your registration process and ask them to complete any compliance checks you have selected.
Journey stage for expected visitors
You'll be able to track the status of any visits you create by going to the "Dashboard" tab in the left-side menu. Here you'll be able to see if the visitor has completed their compliance checks yet under the "Current Journey Stage" column. In the example below you can see "Compliance pending" which means that the user has not yet completed their checks. If the visitor fails the compliance check they won't be able to sign in for their visit.
You can resend the compliance if you need to by clicking the refresh icon that appears in the "Current Journey Stage" cell.
Fill in the compliance on the visitor's behalf
Admins can also fill in the compliance on behalf of the visitor using the "Select Actions" button at the far right of the grid (shown below).
Pre-registration URL for users
You can also send any expected visitor the URL for your pre-registration process to book their own visit.
To do this, go to "Sites & Devices" on your dashboard. Here you'll see a list of the sites your company has. Clicking the dropdown arrow next to a site will then show the areas within your sites.
From here you will see the "Pre-registration URL" for each area.
Copy the link for the area your expected visitor will be arriving at and send it to them via email. They will be able to access the registration process from this URL and complete it before arriving.