Use this contents lists to jump straight to the section you need:
1. Procurement and Installation
2. School Integration Menu Options Explained
3. MIS Settings Instructions
4. Attendance Code Instructions
5. Reasons Instructions
6. Terms and Conditions
7. Student Logs
1. Procurement and Installation
VisiPoint uses a service called Wonde to integrate your school's MIS and our dashboard. In the early stages of a MIS integration we will:
Send a request for access to the School's MIS through Wonde
Work with you through the approvals process
Connect the service once approval has been granted
Activate the MIS integration on your dashboard
2. School Integration Menu Options Explained
If you have a MIS integration, your VisiPoint Dashboard will display a 'School Integration' button at the top right of the dashboard.

Once you click on this, you'll see the following options:
MIS Settings: This is a general settings menu and allows you to test the sync connection to your MIS. This can be useful if you're unsure whether your MIS is updating correctly.
Attendance Codes: This is a feed of the attendance codes that are pulled directly from your MIS. When a student attends school late for example, you would normally select one of these codes directly in your MIS upon their arrival and registration.
Students: This is a feed that shows the list of all students from your MIS. It will show the data fields that you've approved to sync from your MIS. You won't be able to amend or edit these student details within VisiPoint.
Reasons:You will need to create Reasons for VisiPoint that match up to your Attendance Codes in your MIS. This allows user-friendly reasons to be selected on the device at reception, and the corresponding attendance code to be automatically inputted into your MIS. Reasons might include; dental appointment, medical appointment, lateness or religious observance.
Terms and Conditions:You can display a specific set of Terms and Conditions during the student sign-in process.
Student Logs: This is where you'll find the records of your student sign-in activity on VisiPoint
3. MIS Settings
If you have an email address that you'd like MIS related correspondence sent to, enter it in the 'Email' box and Save.
Select whether or not you'd like the VisPoint device to take a photo of the student or guardian during the sign-in process. This can be useful for security and audit purposes.
You can test the connection to the MIS by pressing the 'Test Connection' button. It will give you a straightforward success message, and you should check this if for whatever reason you have issues with MIS sign in.
4. Attendance Codes
The attendance code list is a feed taken directly from your MIS
You can't amend the attendance codes as they're taken as a feed from your MIS. However you can re-sync the Attendance Codes directly in this menu by pressing the Resync button.
The attendance code list contains:
– ID: This is the number that acts as a unique identifier for the Attendance Code in your MIS system
– Code: This is the code that will be entered in your MIS when the student selects a reason that corresponds to this attendance code
– Description: This is a short description which outlines the function of the attendance code
– Type: Can be either Void, Authorised or Unauthorised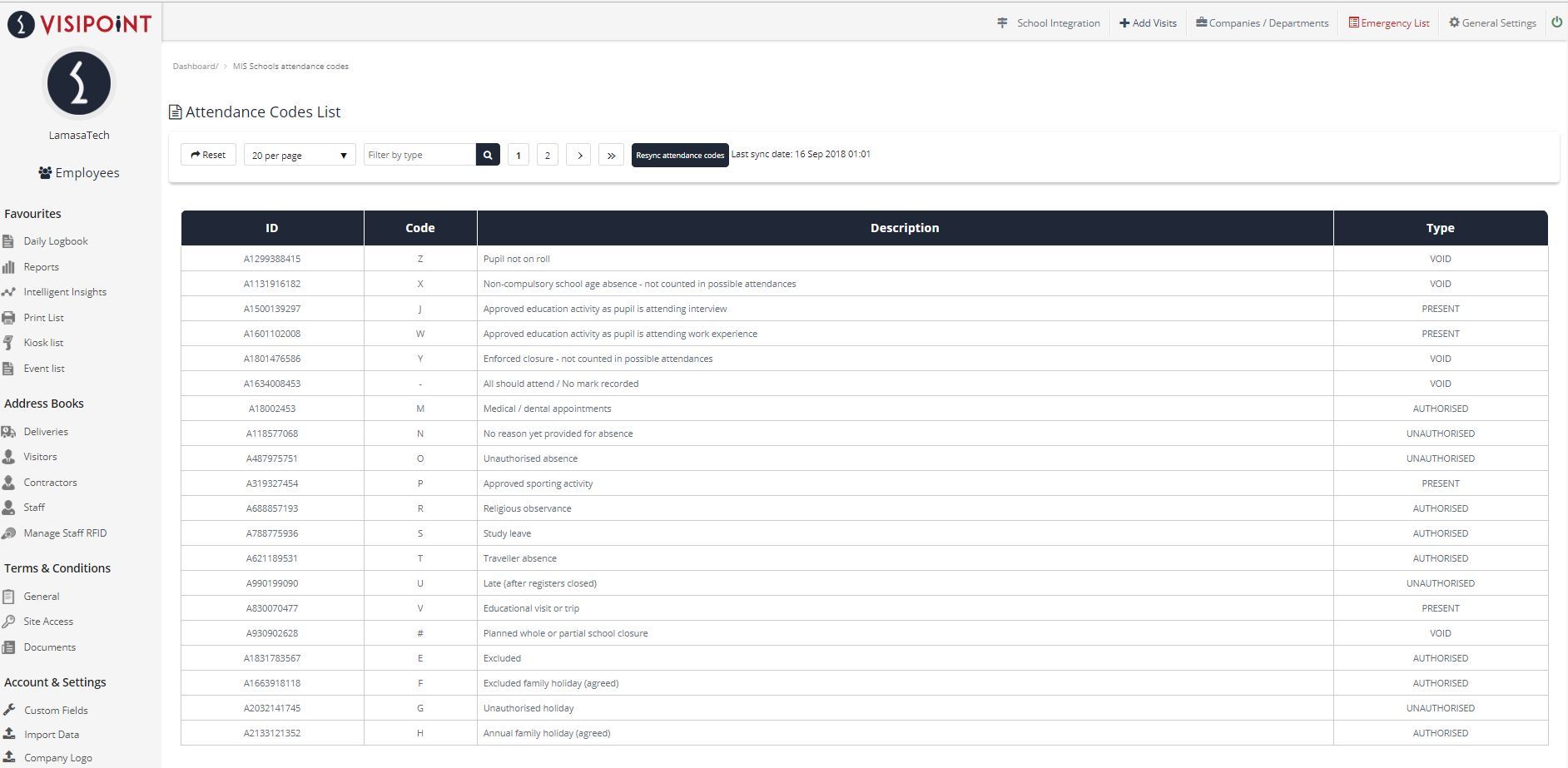 You will need to set up your reasons, matching these to your attendance codes to write the information collected through VisiPoint into your MIS. Reasons are your user-friendly terms that users will select on the device e.g. doctor's appointment. When a student or guardian selects a reason on the VisiPoint device, the corresponding attendance code is written from VisiPoint into your MIS.
5. Reasons

Open the Reasons page from the School Integration Menu
Click 'Add New Reason'
Give your reason a name. It should correspond with one of your attendance codes.
Select the Reason Type: Sign in, or Sign out
Select whether to take a photo of the student at sign in when using this reason (if you select yes here but have the photo capture set to no in general settings, this will override your general settings)
Select whether to show Student Terms and Conditions with this reason (this will again override your general settings)
Select your attendance Code Type.These can be either Fixed or Conditional, depending on the nature of the reason you're creating. You may want to use conditional if your school has different parameters for different times of the day. For example, a late sign-in may be Conditional if the student is signing in in the morning before your registration period closes, after registration period or in the afternoon. However, if a student was signing out for a doctor's appointment this would likely by a Fixed reason.
Save your Reason.
You will need to create Reasons for every type of sign-in you wish to capture on the VisiPoint. On the kiosk during sign-in or out, the student or guardian will select one of the reasons and continue through the process. VisiPoint will then automatically add the corresponding Attendance Code (sometimes referred to as a 'Mark') into your MIS.

6. Terms and Conditions
Here you can copy and paste your terms into the box, then save. It will then show the text as the specific Terms and Conditions during the student sign-in process.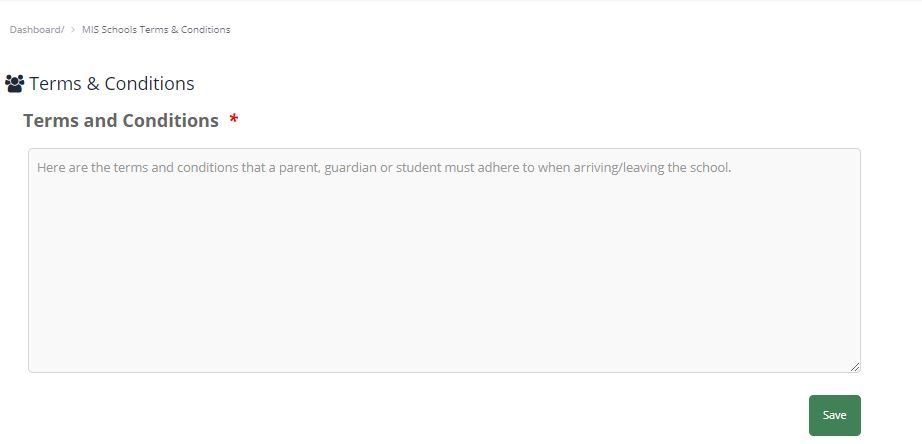 7. Student Logs
The Student Log list is a record of all the sign in/sign out activity by students on the VisiPoint device, displayed in a very similar manner to your logbook. You can:
Filter this by Student or Guardian
Filter it by Visit Date
Filter by Reason type – for example, you may wish to see how many students have left the premises early for medical appointments.
Add a new student log – this allows you to manually create a MIS entry for a student on the dashboard without having to log into a VisiPoint kiosk.

Need some extra support? You can speak to our team on +44 (0) 191 341 0016.