You can tailor what appears your device home screen, by customising the sign-in buttons that are displayed depending on the nature of your business.
Hint. A Kiosk Layout can be applied to a single device or to multiple devices if you wish them all to mirror the same sign-in process. 
Editing or Creating a Kiosk Layout
Custom Sign-In Buttons
If you wish to create a custom sign-in button (different to the default VisiPoint options: Visitor, Staff, Contractor, Delivery, Student) you will create a new Custom User Type. For the full help guide on Custom User Types visit this page.
Once you have created your Custom User Types you'll be able to select these to display within Kiosk Layouts.
Kiosk Layout
Select Kiosk Layout from the Area Settings Menu on the left-hand side navigation of your dashboard.
To make an edit to your default sign-in home screen, click edit on Default Kiosk Layout, or to create a new layout hit the Add New Kiosk Layout button.
Give your Kiosk Layout a name.
Select the User Types you want to be able to sign in via the device(s).
Select the sign-in buttons for the User Types that you wish to appear on your device(s).
You can see these steps illustrated in the screengrab below: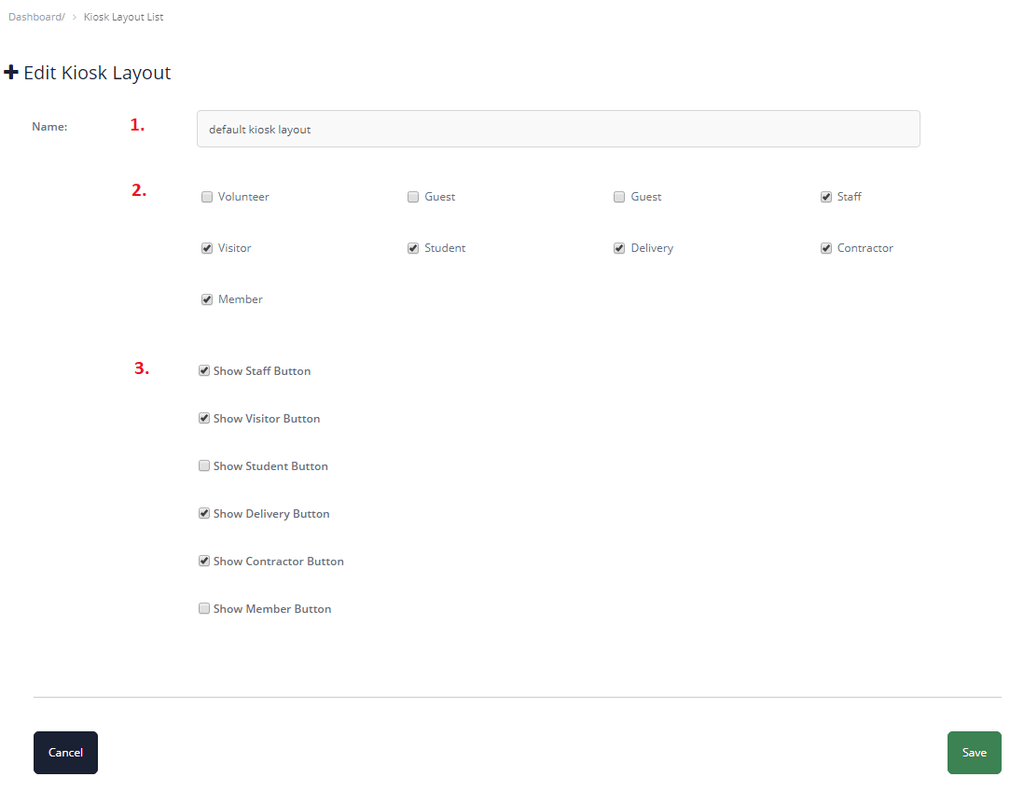 For example:
You may wish to allow contractors to sign in via the back entrance only via their RFID door entry card. If they don't have an entry card you need them to sign in at the main reception screen. In this scenario you would check the tick-box for Contractor in step 2, but you would not check the tick-box for the Contractor sign-in button in step 3.
Applying a Layout to a Device
To apply a new layout you've created to a device, you do so through Areas.
If you've already created an Area, or wish to apply the new layout to your Default Area, edit the Area and edit the Kiosk Layout selected. If you wish to apply different sign-in screens to different devices you'll need to create a new Area, selecting the devices and your chosen Kiosk Layout. To go to the full help article on Areas, click here.
Got further questions?
You can speak to our friendly support team on +44 (0) 191 341 0016.