Staff members can sign in remotely using their Employee account (learn more about Employee Accounts here). This feature is particularly useful if a staff member forgets to sign in when passing reception or when working remotely such as working from home.
If you have an Admin account, with full control of the dashboard, you do not need an Employee Account too as you can sign yourself in and out from the main Daily Logbook.
Sign-in process
Sign in to the VisiPoint dashboard via any device with a modern browser (please use Chrome or Firefox as opposed to older browsers like Internet Explorer).
On the Daily Logbook page, click on the green sign-in button on the right-hand side of the screen (shown below).

A pop-up window will appear. In the first drop-down menu, please choose your area. If you are onsite but signing in from your desk you can choose the relevant area. If you are working remotely, such as working from home, please choose 'Remote' as your area.
Tick the 'Print Badge' checkbox if you would like to print a paper badge from the badge printer connected to your tablet or kiosk. This checkbox will disappear if you choose 'Remote' as your area since you are not onsite.

Click 'Sign In'
You will be returned to the Daily Logbook page where you will see a live counter which shows how long you have been signed-in for. When you want to sign out simply click the red Sign Out button next to the counter and click 'Sign Out' on the pop-up window to confirm.

You will see a record of your sign-in history date (date, time, area) in your own daily logbook so that you can keep track of your working hours. Click on the plus sign beside your name for more details.

Browser and device compatibility
Using the dashboard on your mobile phone follows exactly the same steps as listed above, see example screengrab below of the dashboard from a mobile phone.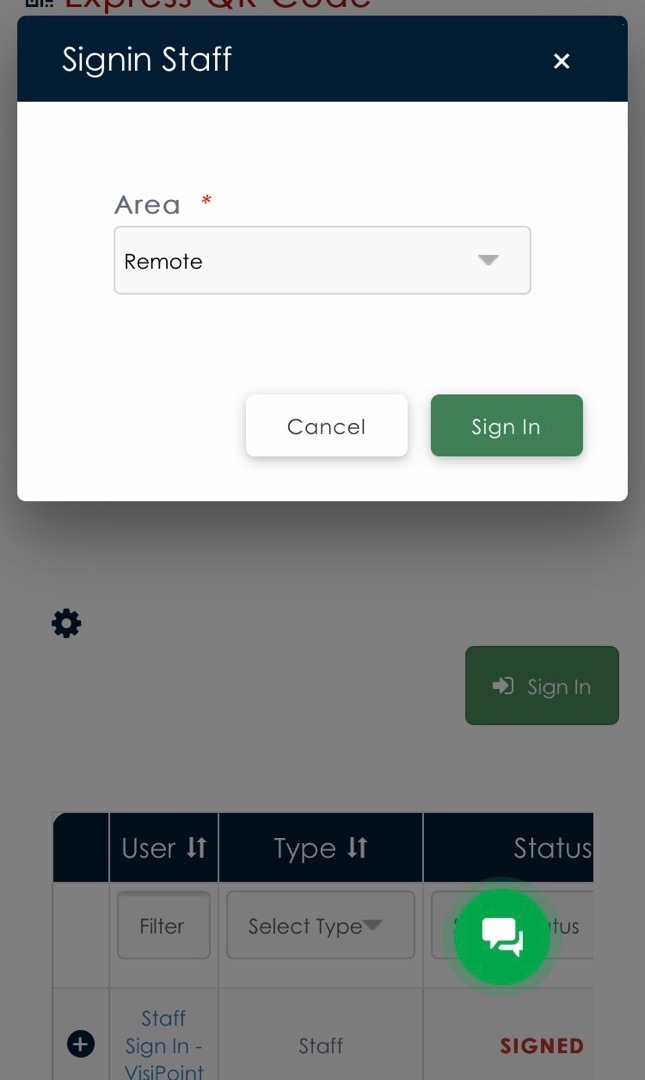 If you need any assistance please contact the support team on support@visipoint.net or click the live chat button from within your dashboard.